Looking for the best yoga podcast to deepen your practice? Or maybe you just want a good yoga podcast to binge on during your daily commute or next vacation?
Whether you're looking for spirituality podcasts, specifics on deepening your physical asana practice, or even a little yoga humor, we've got a yoga podcast for you!
Grab your headphones and keep reading for our recommendations for the best yoga podcasts currently streaming.
 
The 10 Best Yoga Podcasts for Deepening Your Practice (In No Particular Order):
1. Yoga Revealed by Alec Vishal Rouben and Andrew Sealy
The Yoga Revealed podcast by Alec Vishal Rouben and Andrew Sealy interviews yogis and yoga teachers from around the world, discussing all aspects of yogic living. Both hosts are great conversationalists that draw things out of their interviewees that feel relatable and inspiring at the same time. You'll feel like you're sitting right there in the room with him and each guest.
Why you'll love it: It's casual listening with wisdom gems in each episode.
Listen to Alec's episode with YouAligned founder Ashton August here!
 
2. Yogi Bryan Talks by Yogi Bryan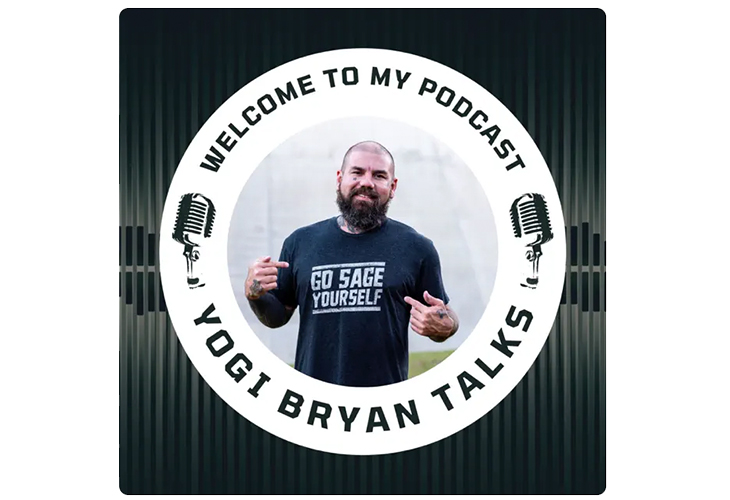 The Yogi Bryan Talks podcast by Yogi Bryan brings a little humor to your yoga and meditation practice, and to your life in general. Yogi Bryan is an amazing, down to earth, meditation teacher.
Get to know Yogi Bryan in our interview here!
His podcast interviews are packed with insight and tips for your yoga and meditation journey, without taking everything too seriously. His lighthearted approach is just one reason this made it on our best yoga podcasts list!
Why you'll love it: This yoga podcast tackles deep topics with lightness and humor. If you want to laugh, this is your guy.
 
Practice yoga and meditate with Yogi Bryan right here on YouAligned!
3. Let's Talk Yoga by Arundhati Baitmangalkar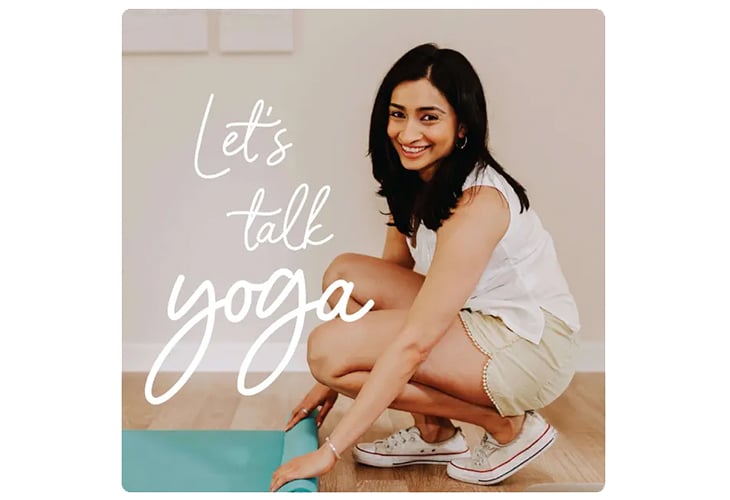 Calling all yoga teachers! In her podcast, Let's Talk Yoga, Arundhati chats about all things yoga industry – from teaching to cultural appropriation of yoga, building your business, and living your practice.
Even if you're not a yoga teacher, you'll find plenty of content in this yoga podcast to inspire and deepen your personal practice.
Why you'll love it: If you're looking for big concepts AND practical strategies for applying them to your practice and life, Arundhati has you covered.
 
4. On & Off Your Mat by Erika Belanger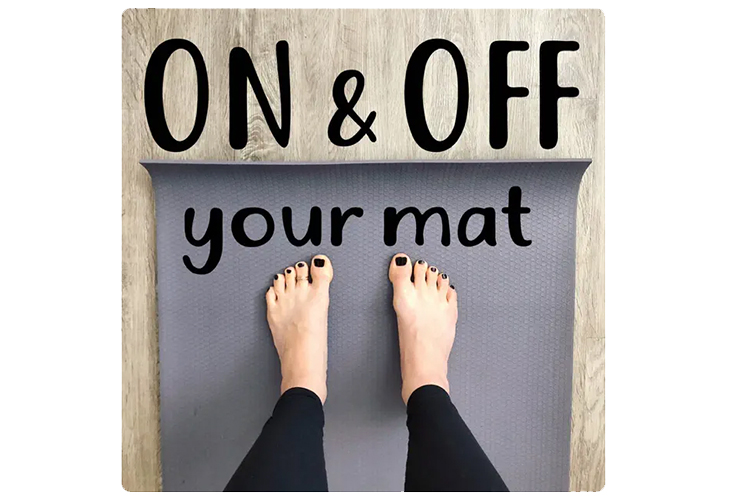 On & Off Your Mat by Erika includes a combination of solo episodes and interviews that dig into yoga philosophy, and mental and physical health – including things like Yoga for Your Mood and Nervous System 101. You can also access premium content through her premium podcast membership.
Why you'll love it: It's packed full of practical advice with deep dives into concepts that truly help you take yoga off your mat.
 
5. Yogaland by Andrea Ferretti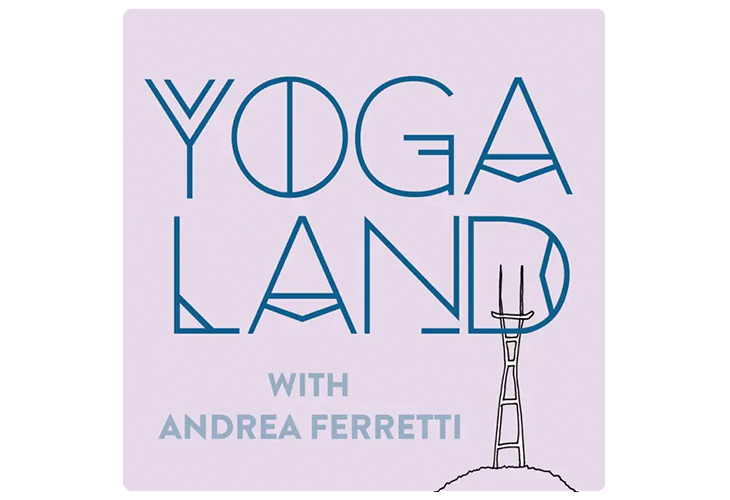 Yogaland is a combination of interviews covering a myriad of topics from mind-body connection to cultivating resilience in your yoga practice, and content specifically geared towards yoga teachers through Yoga Teacher's Companion episodes – easily making it one of the best yoga podcasts for yoga teachers.
Why you'll love it: It includes lots of helpful content that can be applied to your mat and to your life, whether you'd like easy listening or digging into headier concepts.
 
6. Yoga is Dead by Tejal Patel and Jesal Parikh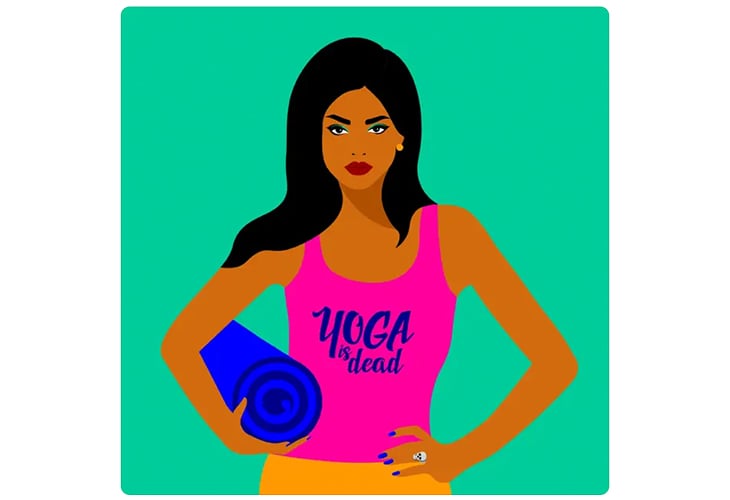 Yoga is Dead is a six episode podcast exploring things like privilege, race, cultural appropriation and capitalism in the yoga and wellness world. Tejal and Jesal share their own experiences in the yoga and wellness industry that bring to light many things that need to change within it.
Why you'll love it: Give this a listen if you're looking for ways to make the yoga and wellness space around you more mindful and inclusive, break the status quo within the industry, and consider whether or not your actions mirror the values of your mat.
For more on this topic, check out 5 Ways to Improve Diversity, Inclusion, and Equity and Make the Wellness Industry More Welcoming
 
7. Redefining Yoga by Lara Heimann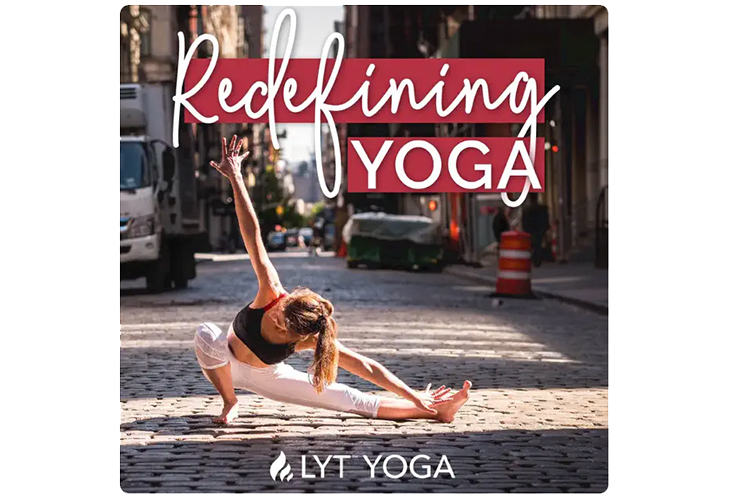 Lara is a licensed Physical Therapist who created the LYT Yoga Method, combining physiology, kinesiology, neurology and function movement patterns. Her studies in these things greatly influence her perspective on all things yoga.
Topics on the Redefining Yoga podcast range from mindfulness and manifestation to Q&A episodes on things like SI joint pain and shoulder tightness.
Why you'll love it: Want to jump into the mind-body connection and what that actually looks like on and off your mat? This is your podcast!
 
8. Yoga Girl: Conversations from the Heart by Rachel Brathen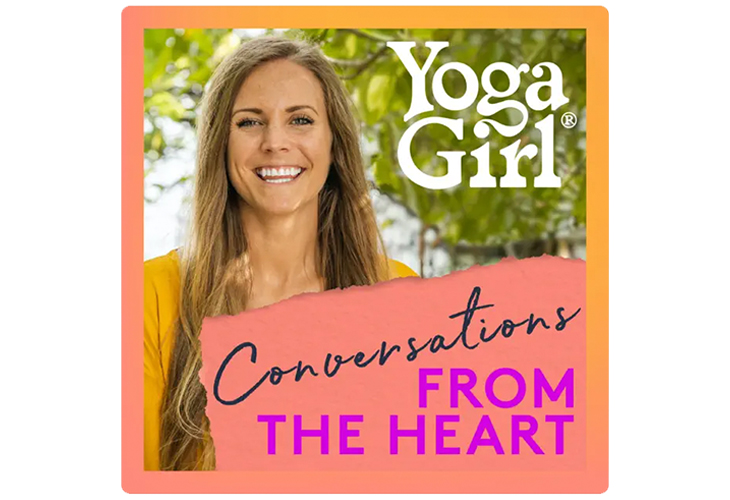 In each episode of the Yoga Girl podcast, Rachel talks about what's going on in her life, with overarching themes that are relatable like finding balance, connecting to self and truly living our yoga.
She has the occasional special guest, but for the most part, it's just Rachel sitting down to chat about how things are going and what she's working through – hence, the title "Conversations From the Heart".
Why you'll love it: If you love getting a behind the scenes look at other yogis' lives, you'll love these conversations that feel like you're sitting down over a hot cup of tea, chatting with a friend.
 
9. Yoga And… by Ashley Weber
Everything is yoga, right? In the podcast Yoga And… you'll hear about everyday things like confidence, the pelvic floor, depression (even connecting with your pet!) and how it all relates to yoga.
Dive into interviews with all sorts of professionals and experienced yogis to chat real life, on and off the mat. This is definitely one of the best yoga podcasts for exploring how to apply yogic principles to your day to day.
Why you'll love it: This podcast is a great way to talk about how we can bring our yogic philosophy into everyday things and truly live our yoga.
 
10. J. Brown Yoga Talks by J. Brown
The J. Brown Yoga Talks podcast is all about slowing down our practice and finding a more therapeutic approach. This podcast is a huge collection of interviews, including yoga teachers and what he calls yoga revolutionists.
Why you'll love it: This yoga podcast explores meditation, Yoga Nidra, yoga history and other spiritual topics in a way that feels really accessible and down to earth.
 
 
Add a Yoga Podcast to Your Yoga Practice!
There are so many great yoga podcasts out there and these are just some of our favorites to help deepen your practice and take it off your mat. Try listening to one before or after you practice, on a long drive or swap it for an evening TV show.
Want more? 6 Spiritual Podcasts to Inspire Personal Growth
 
Practice With Yoga Podcast Host Alec Vishal Rouben on YouAligned Classes!
Ready to roll out your mat and practice with one of our favorite yoga podcast hosts? Practice yoga with Yoga Revealed host and YA Classes teacher, Alec Vishal Rouben!
Let us know what yoga podcast you're listening to right now! Please share with us in the comments below – we love hearing from you!